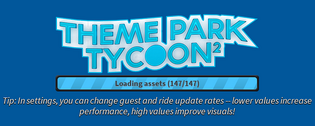 Tips are the pieces of information shown while the game loads.
Listing
Roller coaster chainlifts and boosters have no effect if the train travels backwards, but brakes do!
Use the item picker tool to quickly re-select an item you have already built!
You can increase the range of the terrain tool to more quickly modify large areas of terrain at once!
Night vision and cave vision only work on parks where you have building rights!
Use the visitor overview in the leaderboard to get suggestions to improve your park!
In settings, you can enable night vision to increase the ambient lighting when building during night time!
In settings, add your friends as co-builders to build a park together!
In settings, you can enable cave vision to brighten up dark spaces when building!
In settings, you can change guest and ride update rates--lower values increase performance, high values improve visuals.
Press the thumbs up near a park entrance if you like a park, its owner may even like your park too!
Increasing the cost of rides and stalls can cause some guests to no longer want to use it, make sure to keep an eye on the visitor thoughts!
Hold down [Ctrl] and move your mouse up to raise items into the air easily!