Vintage cars is a gentle ride.
Information
The ride features vintage-style cars that drive on a road-like track. Up to five cars may run at once.
Default Ratings:
Excitement: 2.40

Intensity: 1.00

Nausea: 0.00

Supported Track:
Slight incline, slight decline, chicanes, long straight up/down, and spirals
Color Parameters
Vehicle colors:
Primary veh. color: Car body color
Secondary veh. color: Car grill color
Tertiary veh. color: Car trim color
Targetted piece colors:
Supports color: Supports color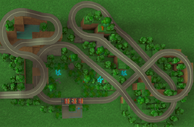 Other Information
The cars are rather slow, moving at a speed of 7km/h. The speed can be increased up to 500% with the ride operations gamepass.
As of v22, vintage cars track no longer supports banking.